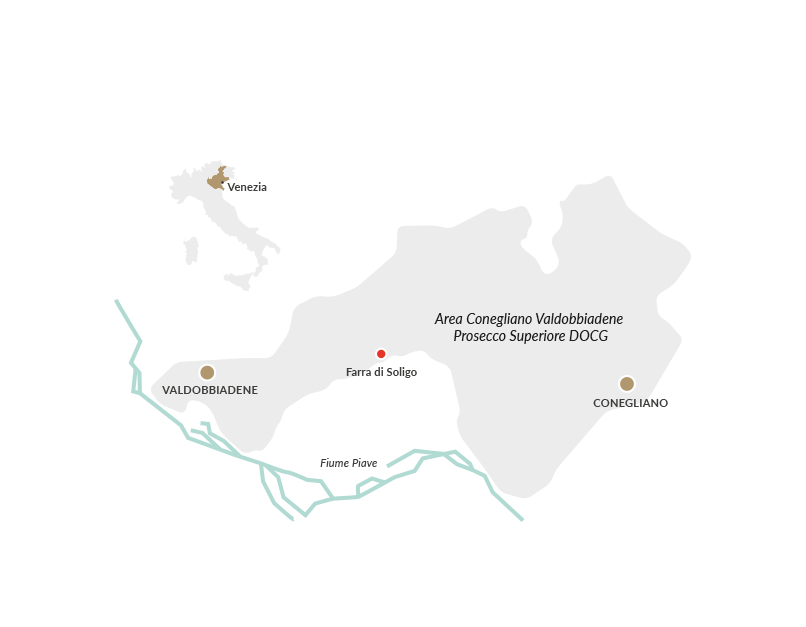 THE PROSECCO SUPERIORE DOCG TERRITORY
The Hills of Farra di Soligo
Stretching out from the golden triangle of San Pietro di Barbozza to the enchanting slopes of Guia, Col San Martino and Farra di Soligo, the territory takes in the areas of Feletto and Conegliano in a patchwork of vineyards and cellars, and is inhabited by people who traditionally, through hard work, sacrifice, and respect for the land, have lovingly cultivated the vine and perfected its wine: Conegliano Valdobbiadene Prosecco Superiore DOCG.
Our cellar is located at the heart of this territory along the Strada del Prosecco which runs from Conegliano to Valdobbiadene, among the breathtakingly beautiful hills of Farra di Soligo, whose vineyards and green forests stretch out towards the Treviso plain.
The Soil
The soil structure, which is fairly shallow, is made up of sedimentary rocks mixed with clay (iron silicate and aluminum), which lends a certain minerality to the grapes.
Climate
Our vinyards' favorable position between the sea and the Pre Alps ensures a temperate climate with constant ventilation, allowing the grapes to dry quickly.
Exposure
The south-facing location of the vineyards on the hills means excellent exposure to the sun and the forest-covered north slopes provide protection from the cold.
Altitude
The vineyards are spread out between the plain and the hills in an area between 150 m and 360 m a.m.s.l., on slopes of more than 35° in places. The steep slopes provide excellent rain water drainage.
Integrated Pest Management
We aim to promote environmental sustainability and we therefore follow integrated pest management, with the use of low impact products in order to protect our vines.
Manual Labor
In these hills, where mechanization is a luxury, it is man's strength, ingenuity, and the sweat on his brow, in short, "heroic viticulture" that makes the difference.
Le Rive de Nadal
Localization of vineyards
The map shows the size of the individual vineyards and vine information.